Case Studies

Case Study #1: Pride of Carlisle
The Pride of Carlisle is a multi-phase neighborhood revitalization program that was launched in 1997 in response to a spiraling of neighborhood decay in one of Carlisle's neighborhoods. Elements of the project include homeownership initiatives, public improvements, enhanced code enforcement, neighborhood business development, owner-occupied housing rehabilitation, and the formation of a neighborhood association. The $5 million project has been successful in turning around a neighborhood that was plagued by drug-related violent crime, vandalism, and lack of private investment.
Before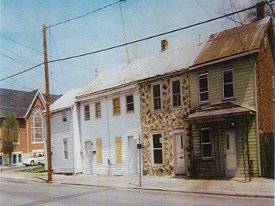 After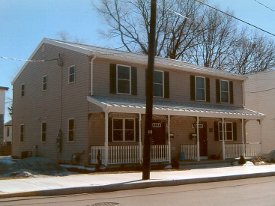 Case Study #2: Comfort Suites Hotel
This public-private partnership involved the redevelopment of a large vacant lot in Carlisle's downtown into a 105 room Comfort Suites Hotel with banquet facilities. A number of creative financing tools were utilized to make this project happen including, but not limited to, a HUD Section 108 loan, low interest rate financing through Dickinson College, and funding through the PA Department of Community and Economic Development. The $ 6 million hotel has served as a lynchpin for downtown revitalization since it opened in 1999.
Before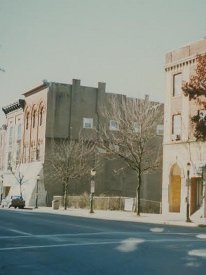 After
Case Study #3: Redevelopment of Former Hotel in New Cumberland, PA into Affordable Senior Housing
The Iroquois Hotel, located in downtown New Cumberland, was constructed in the 19th century but had fallen into disrepair by the 1980's. Unfortunately, the historic property had become a home for drug dealers and users and was a problem property for the Borough of New Cumberland. Now fully renovated, in 2011 the handsome building is home for ten senior citizen households with modest incomes. This case study demonstrates how to attract nearly $2 million in private investment that is leveraged with federal tax credits.
Before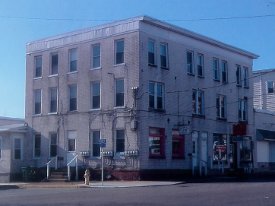 After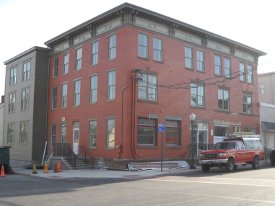 Case Study #4: North East Street Homeownership Initiative
North East Street in the Borough of Carlisle was the location of a row of ten blighted townhomes owned by an absentee landlord that was detracting from the quality of life in the neighborhood and causing a downturn in property values . The Redevelopment Authority of Cumberland County, working with a non-profit housing corporation succeeded in redeveloping the property into five new for-sale houses in 2007. The $1.5 million project demonstrates how to accomplish a project in phases including an initial phase involving the acquisition and demolition of the blighted properties.
Before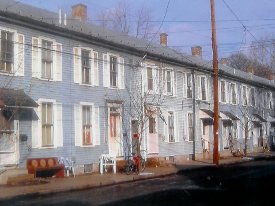 After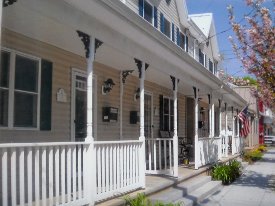 Case Study #5: The Centenary Project
A 1999 fire in downtown Carlisle ravaged a historic structure (the former Centenary Church) and completely destroyed an adjoining structure on one of downtown Carlisle's Main Streets. This case study highlights how to bundle a number of public incentives to attract a private developer to accomplish the redevelopment of the properties into a mixed use property featuring upscale housing on the upper floors and retail businesses on the ground floor storefront. The $1.7 million project includes the use of historic tax credits, real estate tax incentives, and below market rate public financing.
Before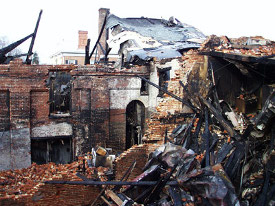 After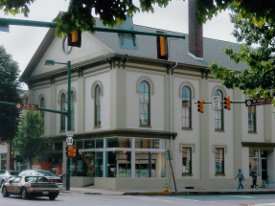 Case Study #6: Redevelopment of Blighted Property into Permanent Housing for Previously Homeless Households
Some properties, because of their original design are not good candidates to be rehabilitated for homeownership purposes. This case study features a blighted property that was substantially rehabilitated into four apartments for persons with behavioral health disabilities. This neighborhood-based housing is a win-win for the occupants of the apartments and the neighborhood. The use of federal homeless funding programs as well as foundation grants is included in this case study.
Before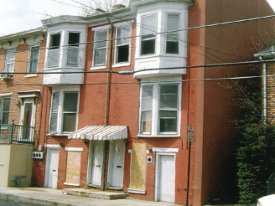 After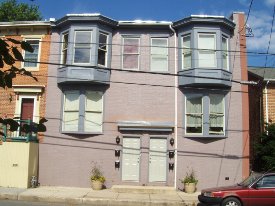 Case Study #7 Redevelopment of former YWCA into Housing for College Students
Dickinson College has increased its presence in downtown Carlisle in a number of ways including the development of housing for students in a downtown setting. In 2007 the upper floors of a former YWCA was redeveloped into housing for forty-five upperclassmen involved in service learning projects throughout the community. The $2.4 million project demonstrates how to develop a successful partnership between a private developer, institution of higher learning and the community. Funding sources include federal Community Development Block Grants, state Housing and Redevelopment Assistance, owner equity, and a bank loan.
Before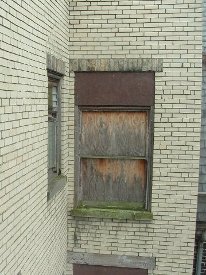 After